There will once again be a 4th of July Parade through Beautiful Tahoe! The route is different, safer than previous years, and there are great viewing spots.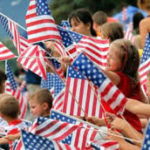 Celebrate the Independence Day on Wednesday, July 4, 2018 beginning at 10:00 a.m. There is a new route this year. The parade will be staged on Ski Run Boulevard and head West on Highway 50 to Al Tahoe Boulevard where the parade will lead up Al Tahoe Blvd. and conclude again at Bijou Community Park with a community barbecue.
Parade participants are to be in formation by 9:00 a.m. on Ski Run Blvd. and participants must maintain steady movement within the parade with 15 to 20 feet between each entry.
The parade will travel in both eastbound lanes with one lane of traffic in each direction in the westbound lanes, allowing for the safety of participants and traffic flow.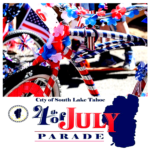 All good viewing points are on the south side of Highway 50, with lots of great spots to sit and watch including Campground by the Lake, the Museum/Senior Center parking lot, South Tahoe Middle School grass, the Rite Aid Parking Lot and LTUSD Bus Garage, along with other areas.
The City of South Lake Tahoe is providing the food for a BBQ at Bijou Community Park again, one that will again benefit the American Legion Post 795. The park will also be the location to display of all parade floats. What a great way to celebrate summer and 4th of July in Beautiful Tahoe! We hope to see you there!!
Support the American Legion: A GoFundMe account has been established to raise funds for the local American Legion Post 795 at www.gofundme.com/LegionPost795 The American Legion Post 795 is in need of updating and is a small post of 94 members. Post 795 is one of three Posts' in California that owns their own building and land. They are currently in need of new carpet, kitchen, roof, chimney repair, and remodeling. The Veterans of South Lake Tahoe appreciate the support the community has given them over the years.
(information courtesy of SouthTahoeNow.com)