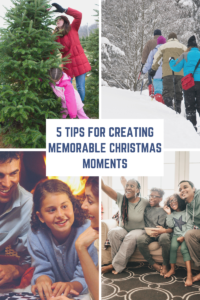 Gifts are great, and there's nothing like getting exactly what you wanted Christmas morning. Tearing into colorfully wrapped packages and pulling out toys and always the more practical items, like a pair of socks, is a holiday standard. But with all the anticipation, planning, and money spent, it's all over so quickly.
As Santa knows, the best part of Christmas isn't the gifts but the chance to create special memories.
Christmas Tree Hunt – Try a National Forest: Lake Tahoe Basin Management Unit is one of several National Forests that let you cut your own Christmas tree with a permit. Permits can be found at recreation.gov/tree-permits. Make sure you follow the guidelines for picking out a tree and only get your tree from the designated cutting areas. Not only are you creating a lasting Christmas memory you are helping clear densely populated stands of small-diameter trees and contributing to overall forest health
On Christmas Day give the gift of an experience. In Tahoe, many families plan a day of skiing and snowboarding as their standard Christmas Day festivities, but you don't need to be an expert to create a lasting family ritual. Sledding, snowshoeing, and just making a snowman can include everyone in the family. And for those in warmer climes strike out and explore your own backyard. Time spent together doing an activity is not only good for the body but also the mind.
Family Game Night. It's getting harder and harder to overcome the digital distractions of modern life, but for the month of December, we recommend designating one night as digital free. Yes, we know there might be some groaning. There are plenty of traditional board games to pull out, but how about each member of the family gets to create a game? Who knows how much fun you can have if the "Floor becomes Lava" for an evening?
What's for dessert? Snow Ice Cream! Freshly fallen snow can be transformed with some cream, vanilla, and sugar. Even Scientists say it's okay. When it starts to snow, place a large, clean bowl outside to collect the flakes. When full, stir in sugar and vanilla to taste, then stir in just enough milk for the desired consistency. Serve at once.
Movie Marathon. After all the excitement of Santa has quieted down, snuggling up on the couch and watching your favorite Christmas movies can be the perfect end to the day. We would like to suggest warming up with a few home movies. It can be a great way to introduce the kids to their extended family as well as cement their own childhood memories.