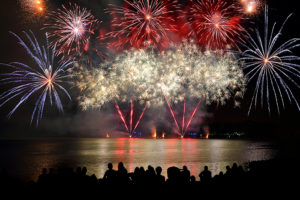 With so many varied venues hosting beautiful Tahoe Fourth of July festivities, we are sharing this Tribune article which has all the details. Happy 4th of July!
The annual Lights on the Lake Fireworks display on the South Shore is regularly recognized as one of the best July 4 displays in the U.S. The show is set to start at 9:45 p.m.
And there is no shortage of venues hosting watch parties.
Hard Rock Hotel and Casino is hosting a rooftop party. The party starts at 7, but the buffet included in the ticket prices runs from 4-8 p.m. in the Revolution Ballroom. Tickets are $65 plus taxes. Head to hardrockcasinolaketahoe.com for information.
Edgewood Tahoe also is hosting three different patriotic parties, but only one has yet to sell out (as of press deadline). The "lodge event" requires a minimum two-night stay at the renowned Lodge at Edgewood — make it a mini vacation and treat yourself. Guests can purchase additional tickets for friends/family not staying on the property.
The event takes place on the lawn right by the lake — a perfect spot for viewing the fireworks. There will be a cocktail hour from 5-6 p.m., gourmet budget dinner from 6-9 p.m., live music, and games. Head to http://www.edgewoodtahoe.com/4th-of-july for information.
Harveys Lake Tahoe is hosting a family-friendly Fourth of July Festival in the casino's Outdoor Arena. Families can enjoy all kinds of activities geared toward all age groups.
A wide variety of food and beverage items will be available for purchase, including backyard barbecue favorites like hot dogs and hamburgers.
Face painters and balloon artists will be delighting the youngsters, plus eight bounce houses, each designed for varying age and skill levels. DJs from Alice 96.5 FM in Reno will be broadcasting live from the Arena's main stage.
Doors open at 2 p.m.
Tickets are priced at $25 each, including fees, when purchased online at http://www.ticketmaster.com. The cost is $20 when purchased at the Harrah's or Harvey's box offices inside the casinos or at the doors.
Perhaps the most unique viewing experience is from the lake itself. Fortunately, Zephyr Cove Resort and Lake Tahoe Cruises have you covered.
Both the famed M.S. Dixie II paddle wheeler and the Tahoe Paradise Cruise will be heading out for a fireworks cruise at 7 p.m.
The M.S. Dixie II will be offering a chilled "welcome aboard" glass of champagne, a surf and turf dinner, full bar and live music while the Tahoe Paradise will be offering delicious light bites, and a full bar during the event, according to a press release. The M.S. Dixie cruise is $265 for adults and $130 for children. The Tahoe Paradise cruise is $225 for adults and $120 for children.
Planning on watching from the beach? [Be aware that the lake is extremely full and beautiful Tahoe beach areas are limited.] Be sure to get there in the morning – early – and have the radio tuned to KRLT-FM 93.9 or KOWL-AM 1490 — they will be broadcasting synchronized music designed to get you in the patriotic spirit. (Courtesy of TahoeDailyTribune.com)