Yes!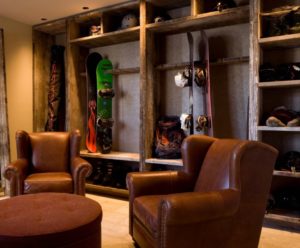 It's official. They've called a beautiful Tahoe "Snow Day", which means fresh pow on the mountain waiting just for you! Wouldn't it be wonderful if it didn't take you so long to get out on the slopes, thanks in part to a ski equipment room where everything from skis to gloves is in one place and ready to go? Yes. Yes, it would.
Ski rooms are becoming popular amenities. You've likely seen the shared spaces with private lockers at resorts. But picture this: your own purpose-built room in your beautiful Tahoe mountain chalet, cabin or condo. A mission-focused place to stow skis as well as boot and glove dryers (why not?), even devices to warm your jacket before you go out.
Perhaps a "ski room", entered directly from the garage. Enter the home, discard your ski items, walk to the living area or hot tub and enjoy the après-ski. Sign me up!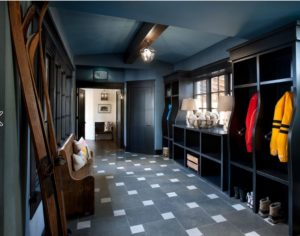 We suggest you plan for convenience: built-in benches with numerous hooks above for clothing, and storage compartments for the equipment. If desired, these can easily be made lockable. What you want is an area that is spacious, comfortable and efficient for your guests and family members. It can be as big as you'd like, or simply dedicate one wall to storing skis, snowboards, and poles. A lovely bench to sit and de-boot. How about a small fireplace, too? And a laundry set-up. A mini-fridge, and a bathroom – with a jacuzzi tub!
Okay, ok. It's possible to have a room for ski gear without building a large custom home. Perhaps your ski condo has a windowless bedroom that someone called a "den". Or there's an unused dining room or office area. An older cabin may have a mud/laundry room in an enclosed porch. There may be enough space at one end of the garage for storage racks and boot dryers.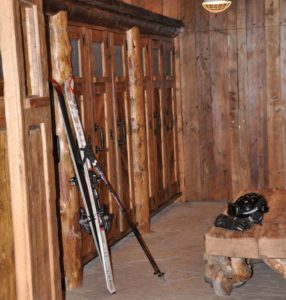 Once you've found the space, it's easy to find the racks, dryers, and hooks that you need. Start with the most basic requirement, ski storage. A wall-mounted steel rack that will hold up to three pairs of skis is $12.90 at MyGarageStore.com; a larger steel rack that will hold poles, as well as three pairs of skis, is $16 at REI.com. Wall-mounted wooden racks starting at $69.95 at CozyWinters.com allow you to display snowboards almost as if they were artworks.
Free-standing bins for skis and snowboards are also popular. A wooden frame that sits on the floor and has plastic tubes for four sets of skis is $228 at CozyWinters.com. Each tube has wire mesh at the bottom that allows melted snow to run out, so you should pair it with something to protect your floor.
Other basics are glove and boot dryers. REI offers a DryGuy Transporter dryer that uses warm air to dry a pair of boots and a pair of gloves at the same time. Not all dryers are electric. Cabela's, the outdoor outfitting company (www.cabelas.com), offers a one-pair propane boot dryer for $54.99.
An alternative to a drying cabinet is a larger drying rack, the DryGuy Gear Tree, a free-standing coat rack (also available from CozyWinters.com) for $229.99. Skiers (or not) can use it to dry sweat-soaked jackets, gloves, and boots; it blows heated or unheated air into and through the clothing. It can also be used to warm jackets before use – and who wouldn't LOVE that?
This is beautiful Tahoe, baby… live well!