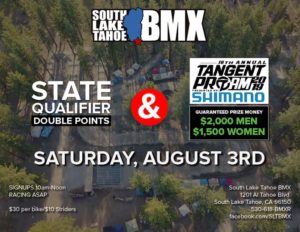 On Saturday, August 3, 2019, 10:00 am – 4:00 pm, Annual State Championship Qualifier is being hosted by South Lake Tahoe BMX at the BMX track in beautiful Tahoe's Bijou Park. Approximately 300 riders will compete. Riders are all members of USA BMX sanction and range in age from 2 yrs. old (Strider bikes) to over 60 yrs. old (cruiser bikes). Class levels are novice, intermediate, expert and semi-pro level.
Come on out to watch the exciting action at the Bijou Bike Park Saturday, August 3, 2019.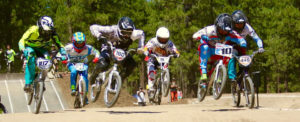 Double Point State Qualifier
Tangent PRO-AM
guaranteed prize money
$2,000 Men
$1,500 Women
Signups 10am-12pm, $30 per bike, $10 Striders
For more information about USA BMX, click here
Spectators are free. The track is located at 1201 Al Tahoe Blvd. For more information, call (530) 618-BMXR or email info@tahoebmx.com.
Parking is limited in Bijou Park, get their early if you want a close spot. All other parking will be across the street at the Lake Tahoe Community College.