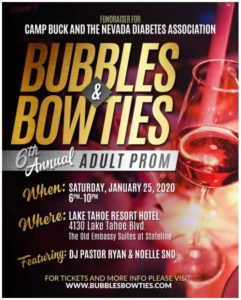 That's right, folks! The Adult Prom is coming up again in beautiful Tahoe, and it's for a great cause…
This time, prom is the 7th annual Bubbles and Bowties Adult Prom, a fundraiser for Camp Buck and the Nevada Diabetes Foundation, organized by Angela Zajic of South Lake Tahoe. Bubbles & Bowties will be held on Saturday, January 25, 2020, at The Lake Tahoe Resort Hotel from 6:00 p.m. to 10:00 p.m.
Tickets are $75 and 100% of the proceeds go to send one child with diabetes to Camp Buck, the premier camp program of the Nevada Diabetes Association for children ages 8 to 13. Enjoy unlimited champagne, instant gratification prize envelopes, silent auction, prom photos, photo booths and, of course, food!
Did we say there are contests? You betcha! There will be prizes for prom king/queen, best dressed (it's a PROM!), best hair, best shoes, best dancers, best-themed couple and best-themed group. So much FUN, right? All for a really good cause, too.
Tickets and tables will be available in December on the event website, bubblesbowties.com. Tickets sell fast, so don't delay! See you there?
For more information: http://www.bubblesbowties.com/
Saturday, January 25th 6PM – 10PM at Lake Tahoe Resort Hotel (formerly Embassy Garden Suites, next door to Harrahs)