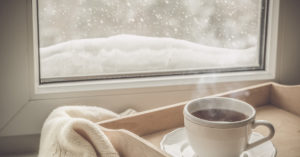 Stop us if this sounds familiar: Your thermostat is hiked up to 74 degrees, you're covered in blankets, you've donned your fuzziest socks—and your house still feels cold. The likely culprit: Drafty windows. Whether they're old as dirt or just not energy-efficient, windows that let in cold air not only bring down your home's temperature but also raise your heating bills because your furnace is working overtime.
We're all up to our knees in this beautiful Tahoe winter, and brrrr, it's chilly! Those windows you meant to switch out last summer didn't get replaced, and you're feeling it now, right? If your bank account is a little lean these days, then replacement windows are probably out of the question. So you have two options: You could keep layering on socks and sweaters, or you could make your windows a lot more energy-efficient by trying these tips from the pros.
1. Caulk carefully
Caulking is good for sealing cracks, gaps, and joints less than a quarter of an inch. On the inside, keep bitter drafts out by caulking between the interior window trim and the wall. You can also apply caulk to the exterior perimeter of the window. Just be sure not to caulk weep holes, the small rectangular holes found on the bottom of the exterior side of the window frame. Weep holes allow moisture to escape the window frame. Clogged weep holes can't do their job properly, and your windows can rot, collect mold, or rust.
Also, avoid caulking the moving parts of the window and the ledge above the window frame, Busch says. Click here for complete instructions and tips for applying caulk.
Do note that the caulk aisle is massive. Be sure to read the labels, and buy caulk that is explicitly labeled for windows. Be sure to purchase exterior caulk for around the window outside, and interior caulk for inside. There are also caulks for humid spaces and masonry uses.
2. Weatherstrip for a temporary fix
When it comes to winter home maintenance, weatherstripping is a cheap and effective way to dodge bone-chilling drafts. Unlike caulk, which lasts around five years, weatherstripping is easy to apply and remove. It comes in a variety of materials and thicknesses and is used on doors, too. Foam weatherstripping is good for the top and bottom of window sashes, and a tension seal (or V strip) is ideal for the side of sliding and double-hung windows.
The trick is to seal the gap without layering it on too thick. Apply weatherstripping to the sash and frame. Make sure you can still open and close the windows with the weatherstripping in place. Find more information on choosing the right weatherstripping and instructions here.
Stay cozy, folks!
Realtor.com
| Feb 22, 2021