EVENT DATE: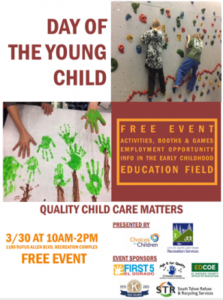 The annual Day of the Young Child will be held at the South Lake Tahoe Recreation Complex on Saturday, March 30, 2019, from 10:00 a.m. to 2:00 p.m.
This beautiful Tahoe FREE event is for all ages. There will be activities, games, booths opened by local youth-oriented groups and vendors, and information about jobs in the early childhood education field. A memorable family day with free early childhood activities: painting, beading, clay, bubbles, a puppet show at noon and more.
Hosted by Choices for Children and Parks & Recreation, Day of the Young Child is also sponsored by First 5 El Dorado, Kiwanis, South Tahoe Refuse, High 5 For Quality and the El Dorado County Office of Education.