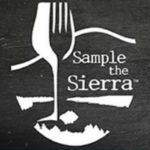 Sample the Sierra, beautiful Tahoe's largest farm-to-fork festival, is back to celebrate all that the Sierra Nevada region has to offer!
The 9th Annual Sample the Sierra is all about locally crafted Food, Wine, & Brew! The event brings together local chefs/restaurants with neighboring growers/producers to turn out scrumptious samples craftily paired with the appropriate wine or brew. The festival's marketplace includes locally made goods such as jam, soap, honey and olive oil along with specialty products created right here in the county, such as fine art, jewelry, and crafts.
Set under the tall pines of Bijou Community Park, this is an event sure to please the foodies in beautiful Tahoe! You won't want to miss it!
Sample the Sierra also features the Sierra Chef Challenge, a cooking challenge between three regional chefs cooking with locally sourced ingredients. Watch four of the most talented chefs prepare delicious meals – and even get the opportunity to taste them! For more info visit SampletheSierra.com.
Saturday, September 15, 2018, 12 – 5 pm. Bijou Community Park