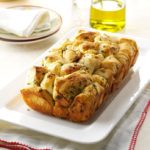 Here is a great garlicky way to make everyone smile on these chilly Autumn evenings! This winning pull-apart bread is always a favorite. Serve it with those wonderful pots of chili and homemade soups we all love at this time of year in beautiful Tahoe. Great for the game day party, too!
Prep: 10 min. + rising Bake: 30 min. 16 servings
Ingredients
1/4 cup butter, melted
1 tablespoon dried parsley flakes
1 teaspoon garlic powder
1/4 teaspoon garlic salt
1 loaf (1 pound) frozen white bread dough, thawed
Directions
In a small bowl, combine the butter, parsley, garlic powder and garlic salt. Cut dough into 1-in. pieces; dip into butter mixture. Layer in a greased 9×5-in. loaf pan. Cover and let rise until doubled, about 1 hour.
Bake at 350° for 30 minutes or until golden brown.
Nutrition Facts
1 serving: 104 calories, 4g fat (2g saturated fat), 8mg cholesterol, 215mg sodium, 15g carbohydrate (1g sugars, 1g fiber), 3g protein.
Originally published as Garlic Bubble Loaf in Taste of Home April/May 1997