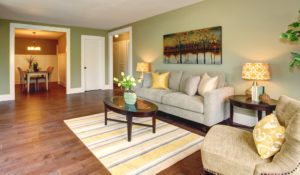 If you were counting on crowded open houses (or any open houses, for that matter) to sell your beautiful Tahoe home, you've probably been rethinking your strategy. With home showings going online during COVID-19, learn how to make your listing stand out on screen. With many people staying home, online for-sale listings have taken on more importance than ever, and it all starts with increasing your home's screen appeal. We have been doing this for several months, and it's not a bad option – AT ALL! And remember, anything you don't wish to do yourselves, we can put you in touch with just the right person to do it for you.
Stage your space
The first step in staging your home is aggressive decluttering. Put away all the kids' and pets' toys, store or recycle loose magazines, and box up your picture frames and mementos for now. You don't want to erase all the personality from your home, but you do want it to feel neutral so potential buyers can imagine themselves living there. Plus, the less random stuff on display, the more spacious your rooms will look.
Next, consider the layout. You may love how your rooms are arranged, but your furniture placement might not maximize space on-screen. Take some test photos to see if the current layout photographs well. If you're planning on creating a recorded or live video tour, do a video chat walkthrough with a friend and see if you have a clear path between furniture pieces. You definitely want to avoid tripping over an ottoman while doing a live tour.
Finally, clean and dust every surface in sight, and replace all the lightbulbs so that rooms are as bright as they can be — even the most beautiful spaces won't read well on camera if they're too dark.
Consider virtual staging
If your current home is empty, you have a few options:
You can leave it empty. (But staged homes tend to sell faster.)
You can purchase furniture if you're able to have it safely delivered to your home. You just need a few key pieces to show the scale of a room — a couch, coffee table, and rug establish a living room's size, for instance.
You could try virtual staging, which digitally adds furnishings to your space. It's come a long way and can make a home look very attractive.
Let's talk about what is right for you and YOUR beautiful Tahoe home. Contact Tim today!
(zillow.com)