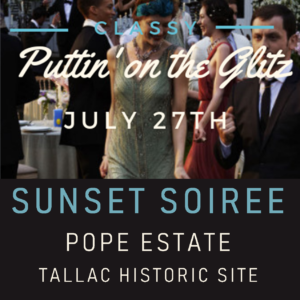 Saturday, July 27, 2019, 6:00-10:00 pm, Soiree at Sunset. This beautiful Tahoe event at the Historic Pope Estate will be SNAZZY! Puttin' on the Glitz. Live Jazz, Food and Beverages. You won't want to miss this event!
An elegant 1920s lakeside evening gathering – whether you're a Fella or a Flapper get all dolled up for the Sunset Soiree Fundraiser on July 27th. You're sure to be the bee's knees, the monkey's eyebrows, the cat's pajamas!
The Pope Estate, truly a beautiful Tahoe treasure, is located 2 miles past the intersection of Highway 50 and Highway 89, just past Camp Richardson, on the lake side of Highway 89. Please turn right on the street with the sign "Valhalla." If the parking lot is full, feel free to park along Hwy 89 outside entrance. Due to the limited parking spaces at Valhalla, we encourage carpooling, bike riding and good old fashioned walking. Parking is allowed in designated spaces only.
Saturday, July 27th
6:00pm – 9:00pm
All Tickets $55.00
Cocktail Attire, '20s Inspired Dress Suggested – Let's have some FUN!