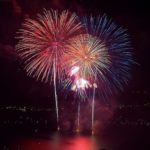 Get yourself to a Beautiful Tahoe beach and park yourself there for a fireworks display that never disappoints! Typically our fireworks spectaculars are unparalleled and always among the top 10 in America.
South Lake Tahoe — Lights on the Lake
The Lights on the Lake fireworks show is full of great vantage points. We have a few extra creative places to view this show:
For the water bound: South Lake Tahoe's M.S. Dixie II offers dining/viewing packages.
For the landlocked: Nevada Beach State Park has a soft, sandy shoreline equipped with barbecues and picnic tables.
For the super-seat-savers: Regan and El Dorado Beaches offer front-row seating that fills up fast.
For families: Bijou Community Park is set back from the shoreline and boasts many amenities such as a skate park, disc golf course, dog park, golf course, and playground.
For west side beaches: The Tallac Historic Site, off Emerald Bay Road, has an eastern-view perspective with nearby Baldwin Beach and its picnic tables. Prepare to arrive early and stay all day!
Pack a lunch and a ton of sunscreen and lots of water, along with a jacket for sundown!