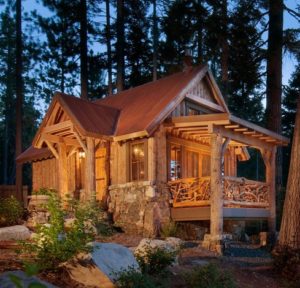 Maximizing space in your beautiful Tahoe cabin can be a challenge. Cabins are usually incredibly functional in how their floor plans are designed — the trick is learning how to make the most of them. Here are a few suggestions to bear in mind:
Create Open Space
Most cabins are built with open floor plans. This makes them feel bigger and more spacious, at the same time reducing blocks to the flow inside your home.
If you have an open floor plan or one large room, don't place your furniture in areas that block the natural flow of the room. Open space will make your cabin feel larger and provide room for everyone to spread out.
Try Multi-Functional Furniture
The best example of this is furniture that can double as storage: end tables with drawers, sofas with storage underneath–you get the idea. Multi-purpose furniture will cut down on the amount of furniture that you need overall and declutter the space that you have. Organize storage by creating a system for how you store things. Add shelves to closets or large boxes to categorize items. Stretch your storage farther by making sure that it's part of a larger working system.
Add Some Tall Bookshelves
This tip is a well-known space-maximizing tool: think UP not OUT. Tall bookshelves add storage that's easy to keep organized and make a room feel bigger than it is because of their height!
Showcase your style and make a "Mountain Love" statement, while taking up relatively small square footage. Win-win.
Choose Decor carefully
How you decorate your cabin makes a HUGE difference. Here are a few tricks to make a space feel clean, uncluttered, and cozy, not cramped:
● Plants: adding fresh, green plants to a room can instantly make it feel like a brighter, more inviting space.
● Color: choose your colors wisely! Too many contrasting colors will make a room appear cramped and cluttered.
● Rugs: use area rugs to divide space in your cabin. Area rugs can open up space by clearly dividing one space from another.
To sum it all up, if you live in a small cabin and are challenged by your lack of space, the answer doesn't have to be adding more square footage: it can be thinking differently about the space you already have. We have seen it all. Give us a call and we can help you figure out your space!