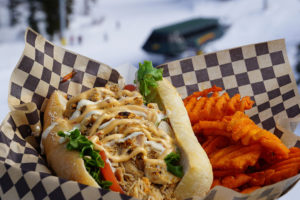 This just in from our friends at Sierra Ski Resort:
Our Food + Beverage Managers are duking it out to see whose culinary skills will reign supreme and YOU are the judge! Explore all our food outlets and enjoy their unique offerings. Join us on Sunday, January 12 at 11AM to satisfy your taste buds. Registration will be $15 for Season Pass Holders + $20 for non-pass holders and will include 5 grub options across each participating outlet and includes a beverage at the Pub when you submit your final votes at 4 PM. Stay tuned for which outlets are joining the battle for supremacy and what food they will be offering! Registration can be done at any Food + Beverage checkout. Participants will receive a custom wristband giving them access to the fun!
So, strap on the feed bag and the skis/snowshoes/snowboards and get some happiness in the beautiful Tahoe snow!