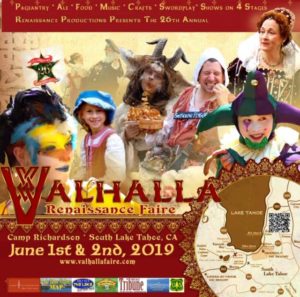 Valhalla Renaissance Faire is a unique entertainment experience and an extraordinary beautiful Tahoe outing for ALL ages.
This unique festival includes full armored combat between knights, a Celtic Music Concert along with culinary delicacies, craft demonstrations, ancient music, dance, and comedy.
Patrons will participate in archery, javelin throws, and fencing. Activities for the children will include dancing, games, crafts, puppet shows, and storytelling.
The Valhalla Renaissance Faire recreates a Renaissance village on festival weekends and includes a merchant marketplace with nearly 100 unique merchants and crafters.
So much entertainment! FOUR stages filled with heart-pounding action shows, music, and comedy, over 900 costumed actors, with interactive and immersive 360 theater- 100 shops with amazing wares and one of the kind artistic creations and more!
What could be more fun in the beautiful Tahoe woods on a weekend in June?
Dates & Times: June 1-2, 2019 – Saturday: 10 a.m. to 6 p.m. – Sunday: 10 a.m. to 5 p.m.
For further information, go HERE.