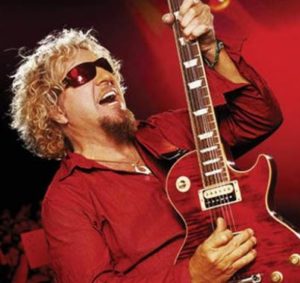 Here in beautiful Tahoe, we love Sammy. Fortunately for us, he comes often! 7:30 PM The Red Rocker himself, Sammy Hagar & The Wabos Saturday, October 5, 2019, inside the South Shore Room at Harrah's Lake Tahoe. Ticketmaster.com
Sammy is known for a long musical career, performing with Van Halen and Chickenfoot and writing songs such as "I Can't Drive 55," "Right Now" and "Why Can't This Be Love."
For almost forty years, Sammy Hagar has been one of rock music's most dynamic and prolific artists. From breaking into the industry with the seminal hard rock band Montrose to his multiplatinum solo career to his ride as the frontman of Van Halen, the "Red Rocker" has set the tone for some of the greatest rock anthems ever written with songs like "I Can't Drive 55," "Right Now," and "Why Can't This Be Love." He's earned the highest respect of the music industry with a Grammy Award and induction into the Rock and Roll Hall of Fame alongside Van Halen and is currently on his fourth platinum run with the supergroup Chickenfoot. Along his journey, Hagar has also become a dedicated philanthropist, a New York Times best-selling author and auspicious entrepreneur.
Raised in Fontana, CA, Hagar's hardscrabble upbringing infused in him an unstoppable work ethic that's been the driving force behind his rise to the top as musician and entrepreneur – and continues to fuel his dedication as a philanthropist. "Being a poor kid is a little humiliating and it instilled in me a desire to be somebody," Hagar remarked. "It's where all my drive comes from. I was willing to work hard to ensure I was never poor again. And now, it's like, I still got that feeling but it drives me to wanna give back and to show kids that if you work hard there's gonna be an open door out."
And one thing is certain – Sammy knows how to rock! Get your tickets and have some fun!
(TahoeSouth)