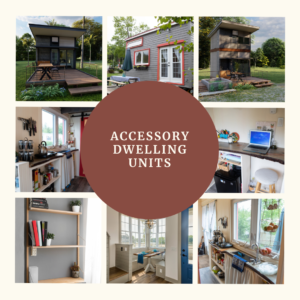 Accessory Dwelling Units (ADUs) are having their moment in Lake Tahoe. You might be more familiar with their other names: granny flats, in-law units, backyard cottages, etc. Regardless of the name, the idea is simple. It's a second small dwelling on the same property or attached to a regular single-family house that has its own kitchen, bathroom, and living area.
In 2021, the Tahoe Regional Planning Agency to encourage more affordable housing options expanded the number of properties in the Tahoe Basin that could qualify to add an ADU. Now single-family residential parcels of any size can apply to add or create an ADU. The previous rule only allowed ADUs on parcels of 1-acre or more. The amendments maintain the 1-acre size limit in the Washoe County and Douglas County portions of the basin, which is consistent with local jurisdiction rules.
But there are caveats. (trpa.gov/adus/)
-Allows up to two ADUs per parcel, to accommodate one detached ADU and one attached ADU.
– Removes requirements for noticing to adjacent neighbors, similar to rules for other accessory single-family uses.
– Requires ADUs to still comply with existing land coverage regulations. (building lot coverage and impervious surface coverage will be two of the main zoning policies that determine the shape and size of your ADU)
– Requires ADUs to still comply with existing development rights requirements.
– Waives application filing fees for ADUs that are deed-restricted for affordability.
– Homeowners adding an ADU receive mitigation fee reductions if their property is within low vehicle miles traveled areas.
The City of South Lake Tahoe also adopted a new ADU Ordinance in 2021 (https://www.cityofslt.us/1151/Accessory-Dwelling-Units)
ADUs Design Ideas
You have all your permits in hand and are ready to design and build your ADU. The most obvious value of an ADU is it gives your property more quality, livable space. But how you need to use that space can change, so maximize flexibility. The ADU may need to function as a home office, but also a self-sufficient apartment. Life has a way of changing your needs. Whether it's adult children needing help to save for their own home, aging parents, or to increase the Tahoe affordable rental market the role of the ADU can morph.
Find ways to bring the outdoors in. Creating a light and airy feel with easy transitions to outdoor living spaces can make the small home feel more spacious.
Consider how you need to plan for privacy. Window blinds, trees, and plants could serve as subtle privacy screens, but if you plan to rent the unit you might want to consider a side or back entrance. To increase longevity, go for timeless finishes and not the latest trends.