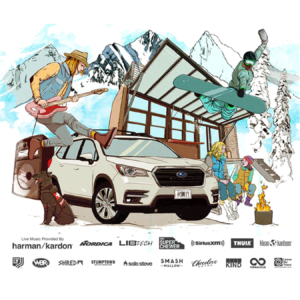 Time to Seize The Snow Days! We just found the following info on TahoeSouth.com:
"In partnership with POWDR, one of the last family-owned adventure lifestyle companies with multiple mountain resort destinations, the Sierra stop of the Subaru WinterFest tour will include live music sponsored by Harman Kardon® from national touring indie/bluegrass/Americana/folk band The Lil Smokies, as well as music from emerging artists and DJs provided by SiriusXM® radio. Visitors are encouraged to demo the latest gear from top brands such as Nordica, Lib Tech, Thule, Shred and other partners offering daily giveaways at on-site tiny house inspired event trailers complete with rooftop and front decks.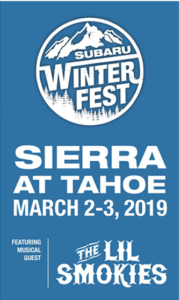 Mountain-goers are invited to play lawn games, relax in hammocks, or warm up at upgraded hangout zones with fire pits by Solo Stove while enjoying winter comforts from Stumptown Coffee Roasters, SMASHMALLOW, Chocolove, and KIND Healthy Snacks. Through dynamic programming executed by POWDR's experiential marketing team, weekend guests are encouraged to engage with experts and like-minded adventure seekers – making time off the slopes just as exciting as on them.
Call it après, call it hanging out…we're calling all winter warriors to experience Subaru WinterFest at Sierra before winter calls it quits!
For freestylers, a commitment to innovative terrain parks has led to Sierra Resort being recognized by TransWorld SNOWboarding as a Top 10 Overall Resort as well as among the Top 10 Best Parks and Pipes in the nation.
And for all-mountain skiers and riders, wind-protected slopes, incredible tree skiing, and 320 acres of backcountry terrain out the Huckleberry Gates make Sierra Resort a bastion of the authentic California ski experience.
Easy to get access and always welcoming, Sierra-at-Tahoe Resort embraces skiers and snowboarders who want to get away from everyday life and enjoy the simple pleasure of winter in the mountains.
Sierra Resort is a partner in recreation with the Eldorado National Forest.
The closest major resort to Sacramento, Sierra-at-Tahoe Resort is located just 12 miles west of Lake Tahoe and receives an annual average of 480 inches of snowfall."