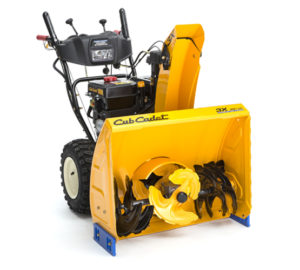 Every year we discuss updating the snowblower. How about you? Not many of us locals are shovelers during a beautiful Tahoe snowstorm. And if you know anything about it, you've got to keep ahead of the storm or you might regret it later – when the (now heavier) snow is too hard to move and you're going through belts or cotter pins.
How to Choose the Right Snow Blower (ConsumerReports.com)
Snow blowers range from about $200 to over $3,000. Features and size dictate price, here's what you need to consider when zeroing in on the kind of snow blower that'll serve you best.
All snow blowers use an auger to suck up snow from the ground and discharge it through a chute. On single-stage snow blowers, the corkscrew-shaped auger is the only device moving snow. Two-stage models have an auger but also use an impeller, which is a fan that helps force collected snow from the back of the auger, out through the discharge chute. The impeller helps two-stage models collect snow faster, and send it farther. Three-stage models have an auger and impeller but add something called an accelerator that helps force collected snow from the auger to the impeller. These machines can clear the fastest and throw the farthest. Single-stage machines tend to be the worst performers, and we only recommend a handful of models.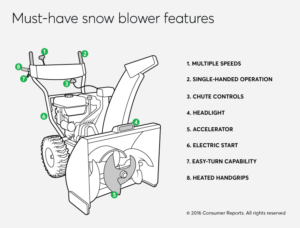 The vast majority of snow blowers use gasoline engines, and these models perform the best. You'll find some corded electric models, which can be used with an extension cord up to 100 feet from your home, but none perform well enough for us to recommend. A small but growing number of battery-powered electric models are also available, but most lack the power to clear heavy snow.
Two-stage and three-stage gas models are best for long, wide driveways with snow levels of up to 16 inches. Some models clear a swath up to 30 inches wide, and their driven wheels can handle steeper inclines—most of these models are three-stage.
Like smaller models, two-stage gas snow blowers use an auger to pick up and throw snow, but they add a fan-like impeller behind the auger to help throw snow out the chute and are propelled by engine-driven wheels.
Two-stage snow blowers are best for clearing snow on gravel since the auger doesn't touch the ground. But the machines are relatively heavy and expensive compared to smaller models, and they can take up as much space as a lawn tractor, though compact 24-inch-wide models can help with storage.
Three-stage gas models are the latest breed of snow blower, aimed at homeowners who have to contend with 18 inches or more of wet, heavy snow.
The accelerator is the feature that separates these power blowers from conventional two-stage machines. As its name implies, this feature speeds up snow clearing by taking snow from the collection augers and forcing it up into the discharge impeller.
Like their two-stage counterparts, three-stage blowers can clear a 30-inch-wide swath of snow, or more in some cases. The machines are on the expensive side, they're heavy, and they take up a lot of storage space in a garage or shed; consider a compact, 24-inch-wide three-stage blower if space is tight.
One more thing. If you have used a snow blower before you know that how far a snow blower throws the snow is very dependent on the type of snow. Most snow blowers will only throw snow at the "listed" distance when everything is perfect. In other words, most snow blowers will throw normal snow well, heavy wet snow ok, really light snow not as far and slush barely at all. If you step into a pile of snow and it splashes – most snow blowers are not going to throw that slop and will most likely plug. (There are a few that will!) If the snow is that wet you can always use it as a plow to push the slush off to the side.
If I can stress only one point, it is to do your research before you buy your snow equipment. I want you to make the best choice the first time. Educate, educate, educate, yourself and you cannot go wrong. Purchasing a snowblower is a huge investment in time and money and it should not be taken lightly. I hope that after reading this buying guide you have a better understanding of not only what a snowblower is, but how it works and what it can do for you. Let this guide act as your starting position, pointing you towards the right snowblower for this beautiful Tahoe season.