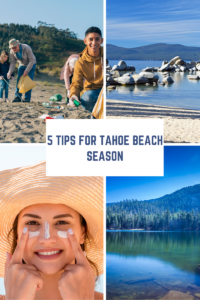 Prime Lake Tahoe beach season is June through September, and the most popular spots can fill up quickly. Here are some ideas and tips for getting the most out of summer lake time.
Check out the Tahoe Beaches website for detailed information about the more than 40 beaches around Lake Tahoe. You can search by beach features, distance, and more.
On busy summer days, bike to the beach. Pull out your summer cruisers, and baskets, and jump on two wheels for an energizing and traffic-free way to the beach. Tahoe's network of bike trails runs past some of the most popular places to park in the sand.
Find your own private beach in Desolation. Desolation Wilderness is filled with isolated alpine lakes. The most easily accessible in Angora Lakes, but parking fills up quickly on most summer days. For backcountry hiking, fill out a day permit at the trailhead, bring bug spray, plenty of water, and layers for changeable mountain weather.
Pack it in and Pack it out. Lake Tahoe is bear country so make sure we keep our wildlife wild by throwing away all trash in bear-proof trash cans and dumpsters.
Don't forget the sunscreen. Living at elevation means the sun has less atmosphere to travel through so the ultraviolet intensity is more intense. Wear sun-protective clothing and reapply frequently.