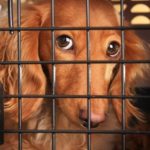 Just as tour beautiful Tahoe holidays can be stressful for humans, they can leave your dog frustrated, too. They might be in search of a hideaway or require a house-training refresher. Crating can help with this.
Pick the Right Size and Style
A general rule of thumb: Your dog must be able to stand up, turn around and lie down nose to tail unrestricted. If you have a puppy, it's important that they not have too much space. Typical crate dimensions for a small or medium dog are 36" x 24",while a crate that's 48" x 30" can accommodate larger pups. One more thing to consider—if your dog is a chewer, make sure their muzzle can't fit into the spaces between the crate's wires and bars.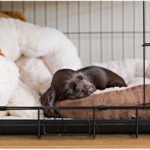 Quick tip: Crating can also help dogs feel secure during a beautiful Tahoe thunderstorm (or fireworks).
Introduce a Crate Correctly
Keep the door open and persuade your dog to enter by tossing in toys. If they refuse to go inside, don't push them in. Instead, place an article of yours, like a blanket or T-shirt, in the crate to coax them to enter. "If your dog is food motivated, try doing regular feedings in the crate," says James Tysseling, COO of Canine Retreat by American Kennel Club. Once the dog is inside, close the door and leave the room. It's important to ignore any vocal complaining and return only when they are quiet. Practicing for 20 to 30 minutes a day is sufficient. Praising your dog afterward, verbally and with treats, is crucial.
Watch Their Time
Although most dogs are natural den dwellers, they don't need to be in a closed crate all day long. "On average, up to five hours in a crate is reasonable," says Nicole Goudey-Rigger, owner of Pets a Go Go. Puppies under six months of age should not be in a closed crate for more than three or four hours at a time, so consider this if you need to leave them alone at home. Once they are acclimated, the length of stay depends on their bladder and bowel control. However, when introduced correctly, overnight crating can provide a safe haven for beautiful Tahoe pups when their pet parent is not actively supervising them.
Don't Crate as Punishment
If your dog happens to ruin your favorite pair of heels, do not force them into a crate to teach them a lesson. This will ultimately make your dog afraid to enter again. If your adopted pet had the unfortunate history of being mistreated or punished by using a crate, start with an entire room as the boundary and eventually narrow down the space with an exercise pen, then a crate.
(courtesy of FamilyCircle.com)