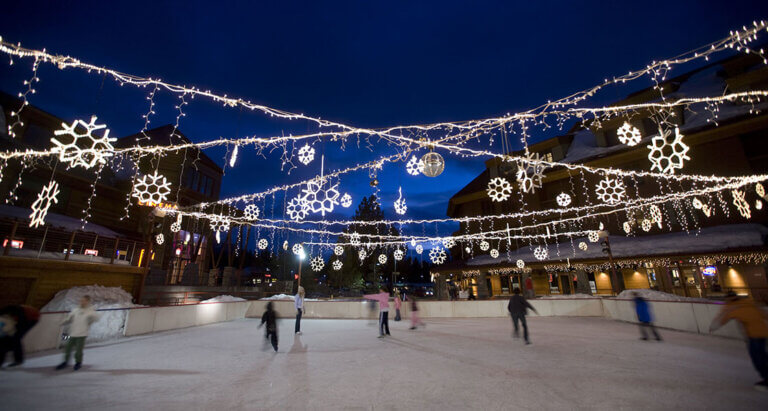 VisitLakeTahoe.com
Living in the mountains has its perks and when it comes to the holidays, we take advantage of our natural assets. Here are the top 5 that should make your holiday list when visiting Lake Tahoe.
Christmas tree lightings, from Meyers to Stateline South Lake Tahoe knows how to light it up. On Dec. 2, Santa will arrive via CalStar helicopter to light up the tree at the Meyers Annual Tree Lighting from 5 – 7:30 p.m. Every year the community lights up one of the biggest trees in Meyers the gateway to South Lake Tahoe. There will be hot cocoa, popcorn, and a photo opportunity with Santa at the Divided Sky Restaurant & Bar, 3200 U.S. Highway 50, Meyers, Calif. Starting Nov. 28, the Heavenly Village will be holding a nightly Holiday Tree Lighting at 5:30 p.m. with Santa. Click here for a full schedule of Heavenly Village Holiday Events.
Catch a Candy Cane from the Holiday Fire Truck. South Lake Tahoe and Lake Valley Fire Departments canvas the neighborhoods in December bringing holiday cheer, music, and candy to the families of the South Shore. The sound of Jingle Bells and the brightly lit trucks are a beloved holiday tradition.
Go on a Christmas Tree Hunt. With a permit, you can cut your own Christmas Tree from designated S. Forest Service Areas. A Lake Tahoe Basin tree permit is a hot commodity, and they usually sell out within days of going on sale. But if you missed out there is still hope the neighboring forests also sell permits and are usually easier to buy. There is something magical about hiking through the snow-covered forest in search of the perfect tree.
Christmas morning ski session. For skiers and boarders, there's nothing quite like getting up Christmas morning and heading up for first tracks on the mountain. Locals often hit the mountain early for a few runs and then head home to open presents with well-earned rosy complexions.
Winter Fun. You don't have to be a skier to love Lake Tahoe winters. From sledding to snowshoeing, and cross-country skiing the holidays are best enjoyed getting outside and enjoying all that Mother Nature provides in the way of snow play.
For more information on living in Lake Tahoe sign up for our newsletter.