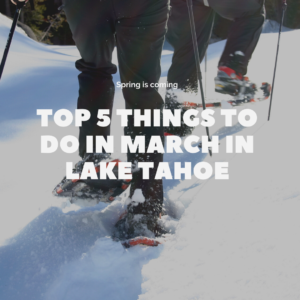 Spring is right around the corner for the mountains, but in South Lake Tahoe there is still plenty of winter fun and events. Check out these ideas for your March calendar.
Spring skiing will be in full swing next month. From Miracle March storms to blue bird skies, hitting the slopes in Tahoe in March is always a good idea. Heavenly Ski Resort will have live bands at Tamarack Lodge Friday and Saturday nights from 3 to 5 p.m. or catch the DJ CAT on the slopes every weekend at East peak from noon to 2 p.m.
Catch a Show. Get your tickets for Andy Grammer and Blackberry Smoke or spend An Evening with comedian Eddie Griffin. All three acts will be live in the South Shore Room at Harrah's Lake Tahoe in March.
Sample some whiskey and ales. The inaugural prohibition-themed Lake Tahoe Whiskey Expo is coming to Stateline Brewery on March 27. Or wear your green and take on the South Lake Tahoe Beer Trail for St. Patrick's Day.
Take a Full Moon Snowshoe Tour, Saturday, March 12. You can take a guided tour at Sugar Pine Point State Park, or head out over Luther Pass to Hope Valley for a self-guided experience. Seeing the snow sparkle like diamonds under a full moon is an awe-inspiring adventure.
Welcome in spring, March 20 is the spring equinox when day and night have approximately the same length. What better place to welcome in spring than Lake Tahoe, where you can ski in the morning and spend the afternoon out on the lake.
Ready to start your Tahoe adventure, contact us and sign up for email alerts on new listings.