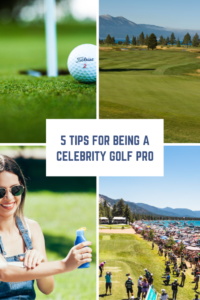 The American Century Championship kicks off its 33rd year at Edgewood Tahoe Golf Course July 6-10, 2022. This celebrity golf tournament brings more than 80 sports and entertainment celebrities to Lake Tahoe. Returning this year, fresh off his fourth NBA championship win, and first NBA finals MVP win is Steph Curry of the Golden State Warriors, along with Justin Timberlake, Charles Barkley, Aaron Rodgers, and Tony Romo. Watching these GOATS play the Edgewood course is a highlight of the summer. Here's the ins and outs of experiencing this iconic Tahoe event.
Practice round days are some of the best time for personal interaction with the celebs. Before the tournament starts the celebrities have more time to talk and possibly get a picture with the fans. Once the cameras are on, the crowds arrive, and the pace of play must be maintained the players are discouraged from stopping and autographs are not permitted during the tournament rounds.
Plan on using public transit and walking. There is no on-site parking at Edgewood Tahoe. The nearby casinos offer paid parking, but those can also fill up. Spectators are only allowed to walk into the course.
Clear bags or nothing. Make sure you know the rules before you go. Only clear bags up to the size of a backpack are allowed inside the gates. And sports memorabilia is prohibited, but you can wear a jersey of your favorite player.
17 is where the party's at. Hole 17 situated right along the beach is party central for celebrity golf. Spectators angle for the best viewing spot on and offshore as the beach fills up with boats, kayaks, paddleboards, and pretty much anything that floats. If you want a water view during the tournament you will need to get up early as it fills up quickly. Here's where you will find the celebs throwing footballs to the crowd and trying their luck on the basketball hoop that is set up near the tee box.
Sunscreen and hydrate. Tahoe's altitude makes it easier to end up with a sunburn so bring a hat and apply sunscreen frequently. You are allowed to bring one 16-ounce water bottle on the course. You'll need it.