Now a national and California state park, Historic Vikingsholm is open for public tours all summer long. A must see in Emerald Bay for any visitor interested in Lake Tahoe history and it's early settlers seeking summer solace just like you!! Be sure to check out the Tea House on Fanette Island in the bay.
TOUR DATES:
May 25 – September 30, 2019 TOUR HOURS:
Tours begin every 30 minutes from 10:30am-4pm
Tours are conducted 10:30 am – 3:30 pm and begin on the half hour.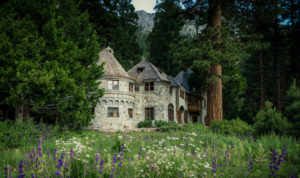 Tour Fees:$15 for adults
$12 students 7-17 years and with valid college ID/active duty/seniors
FREE: Children under 7 yearsPurchase tickets at the Visitor Center just past Vikingsholm. The Visitor Center is open daily during the tour season from 10am-4pm.
PRIVATE AND SCHOOL GROUP TOURS:
Private (over 20 persons) and school group tours can be arranged by calling the Sierra State Parks Foundation office at 530.583.9911.
GETTING THERE
Access to Vikingsholm is via a STEEP one mile trail from the parking lot located off of Highway 89 or a less steep 1 1/2 mile trail that leaves from the Eagle Point Campground campfire center. Please make sure you are physically able to make the climb back up the hill.
Note: Dogs are not allowed in the Vikingsholm area, including the trails leading into Emerald Bay. Please plan accordingly.
VIKINGSHOLM BY BOAT
The Sierra State Parks Foundation is partnering with Camp Richardson Resort by offering a cruise & tour package to the historic Vikingsholm Castle. Cruise the crystal-clear waters of Lake Tahoe and experience the awe-inspiring beauty of Emerald Bay. Then tour the magnificent Vikingsholm Castle, a must-do on your Lake Tahoe adventure list. Skip the hike down and take a boat in!Cruise & Tour Information Here
ADA ACCESSIBILITY:
Call California State Parks at 530-525-7232 or email Emerald.BayADA@calparks.onmicrosoft.com to inquiry about eligibility and availability.
SPECIAL EVENTS:
The Sierra State Parks Foundation hosts several fundraising events during the summer months where guests can drive into Emerald Bay. Visit their event page for more details.