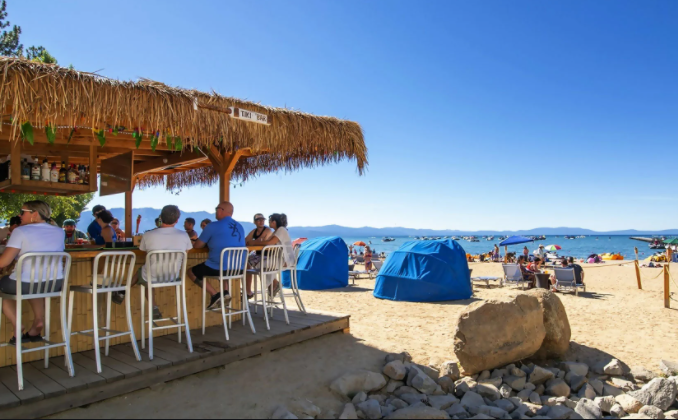 Lake Tahoe is a special place, enjoyed by millions of visitors, but less than 60,000 can call it home. Why would you want to move to Lake Tahoe? A recent survey of Tahoe residents by the Tahoe Prosperity Center said natural beauty, lifestyle and recreation all top the list of reasons Tahoe is a great place to live.
The Great Outdoors
For all Tahoe residents, the great outdoors is right outside their backyard or not far from it. Approximately 78 percent of the area around Lake Tahoe is public land managed by the USDA Forest Service. Totaling over 154,000 acres, this land includes beaches, hiking and biking trails, wilderness, historic estates and developed recreation areas such as campgrounds and riding stables. A trailhead is never far away and the recreation opportunities encompass all four seasons.
Four seasons
Unlike much of the surrounding areas, Tahoe enjoys four distinct seasons, and every Christmas is almost guaranteed to be white, and the mountain's fall can bring spectacular color displays to the area's Aspen groves. And summers in Tahoe are not to be missed. Often you will hear locals reminisce about coming for a winter ski season and then never leaving because of Tahoe summers.
Tahoe Tap
Lake Tahoe residents enjoy some of the best tasting and purest water on the planet all right out of their taps. In fact, there is a current campaign to reduce single-use plastics in the area that centers on enjoying Tahoe Tap water.
Small town feel, with big events
While you will find many South Lake Tahoe local residents catching up in the neighborhood grocery store aisles, it is also a town that has seen world-class entertainers like Beyonce, Lady Gaga, and Bruno Mars. From July 4th fireworks that are rated as one of the best in the U.S. to big-name acts at the summer outdoor concert series and local events, residents always have something on the horizon to look forward to.
Living where people vacation has it's challenges, but then you are also living every day in a place that people dream about.
Interested in learning more contact us.