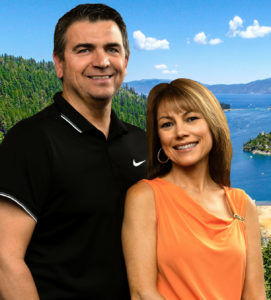 Lake Tahoe Neighborhood Specialists, California and Nevada
Tim and Kristi Cain specialize in buying and selling residential real estate in Lake Tahoe and it's surrounding areas.
With more than 17 years experience of working in general real estate as well as the luxury market, Tim and Kristi work closely with their clients to ensure they're aware of critical real estate market knowledge and information so they can make the most informed decisions.
Why You Should List or Sell Your Home with Tim and Kristi Cain
When choosing an agent to sell your property, it's crucial to select someone who is familiar, comfortable and experienced selling and buying homes in Lake Tahoe.
Tim and Kristi believe there is a human side to doing business in real estate. Aside from rankings and sales statistics in Lake Tahoe real estate, they believe that business isn't about being "number one" or working around the clock. "It's about providing our clients excellent service, up to date information, and sound advice," Tim says. "It is true that our office is often staffed seven days a week, and we are often working with our clients sometimes until late in the evening when they need us, but it's that kind of dedication and quality of service that is our focus."
Our experience with handling the purchase and sales of real estate, plus the expertise we provide, means a level of service that's unparalleled in the Lake Tahoe real estate market.
We have built a reputation for client satisfaction and we will assist you every step of the way in purchasing property in the Lake Tahoe area…buying or selling we are devoted to making the transaction go as smoothly as possible.
Meet with Tim and Kristi today. Contact us at 530-363-0231 or email us at info@BeautifulTahoe.com. You can also complete our Real Estate Contact Form and we'll follow up with you shortly.