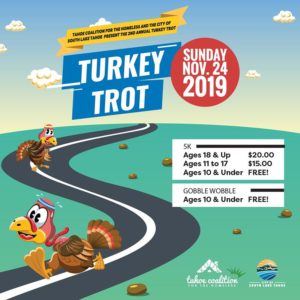 Join the Tahoe Coalition for the Homeless and the City of South Lake Tahoe on Sunday, November 24, 2019, for their Annual Fun Turkey Trot for all ages at the South Lake Tahoe Recreation Complex.
Gobble Wobble (10 and under) begins promptly at 9:45 am. First, 25 Gobble Wobble registrants receive a one size fits all T-shirt. The 11 and above 5K begins promptly at 10:30 am.
The cost is $20 for adults, $15 for ages 11-18 and free for kids 10 and under. Funds raised go to help those using the Warm Room in South Lake Tahoe this winter. The first 100 to sign up will receive a free reusable water bottle. Register at: Tahoehomeless.org/turkeytrot
Your $20 race registration will cover services for someone to spend in the Warm Room. Thank you for your generosity!
This beautiful Tahoe event will happen rain, snow or shine. No refunds provided. Registrations are not transferable. NO PETS.
Consider bringing a reusable water bottle to cut down on waste, and be good to the environment!
Top finishers Men/Women will receive a prize.
The South Lake Tahoe Recreation Complex is located at 1180 Rufus Allen Blvd.