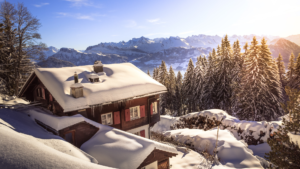 The real estate market doesn't go on hiatus for the holidays and there are advantages to buying and selling during the winter. For example, when looking to buy in Lake Tahoe you can really find out how your prospective new house performs in the deep snow that Tahoe is known for. Here are some tips for winter home shopping.
Winter Ready
How much sun exposure your future driveway receives in the darker months can make a big difference between an easy snow removal job and a more difficult one. It also gives buyers a chance to see how well the home stands up to colder temperatures, where the icy spots might form, and how challenging it is to navigate the roads around your new neighborhood.
If the cover of snow makes you nervous, consider requesting current photos of the house in spring and summer to give you a clear picture of what is buried underneath the blanket of white. Talk to your real estate agent about items that you can't verify before purchasing like sprinkler systems, and request maintenance records.
Breeze through the process
Since there is less activity, mortgage brokers have more time and the opportunity to push your paperwork through in a timely manner. And if you need help moving you might find there isn't a wait with moving companies as they also slow down at this time of the year.
Home Wish List
There are fewer options on the market in winter, but that has been true for Lake Tahoe for a while. The benefit for buyers is there might be less competition for the houses that are available, which can mean fewer bidding wars. If you are determined to buy in winter, you may have to reevaluate your wish list in a new home and be willing to change your expectations. Realtors can work magic for their buyers but they aren't Santa's elves.
Come ready to shop
Getting pre-approved can really ease the process. It will also help your real estate agent keep you on budget and let you know how much of a down payment you need.
Have questions? We're here to help. Sign up for new listing alerts and find more information on our buyer resource page.