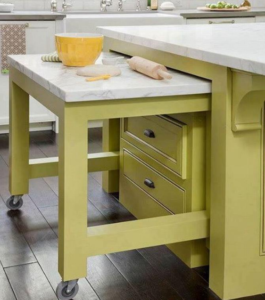 Something to consider when updating your beautiful Tahoe homes… accessibility. Whether you currently have a special need or down the road when you sell your home, it's a plus to have accommodations for all.
Adding an island to your kitchen? This is almost always a great home improvement, as most older homes have limited counter space. There are so many concerns regarding making your home a more accessible place for any need that can arise…
This island modification is a great option! This slide-out table provides a lower additional surface for dining or prep in your kitchen. When not in use, it tucks neatly away (back inside the island itself). Great for kids -or wheelchairs- and such a do-able accommodation for your kitchen. Drop-down table tops are also a convenient option.
On that note, if your interior doors are narrow, consider changing them out for wider/more modern ones. This will carry a bigger price tag, but it's a real game-changer when showing your home to potential buyers. If you are considering an update to your beautiful Tahoe home, ask us how it will impact your resale value. Some changes will reap bigger rewards than others. And not all updates are about aesthetics. Livability is key, for you and possible future owners. The point is, if you can factor in added accessibility while you make changes to your home, it's a win-win for everyone. Let's talk about it!