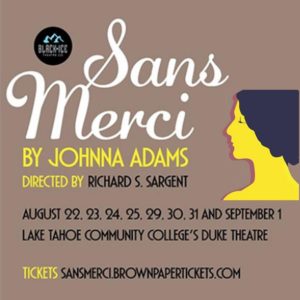 Powerful performances at beautiful Tahoe's LTCC Duke Theatre going on now through Sept 1st.
"Sans Merci"*
by Johnna Adams
Directed by Richard S. Sargent
Starring Briana Biller, Kalayna Miller, Andrea Rogers
Lake Tahoe Community College's Duke Theatre
August 22, 23, 24, 25, 29, 30, 31 and September 1
All shows 7:30 pm except September 1 at 2:30 pm
Tickets: $15-$20
For tickets: https://sansmerci.brownpapertickets.com
For season tickets: https://blackiceseasontickets.brownpapertickets.com
THE STORY: Kelly, an idealistic young woman and a survivor of rape and attempted murder by South American revolutionaries, is visited three years after the attack by the conservative mother of Tracy, the other victim. Slowly, the survivor and mother dance through their grief at losing Tracy, while negotiating the truth of what brought the two young women together, why they undertook their dangerous humanitarian mission, and what happened on that final day.
*Contains adult content, language, and nudity. Not suitable for children.
1 College Dr, South Lake Tahoe, CA 96150