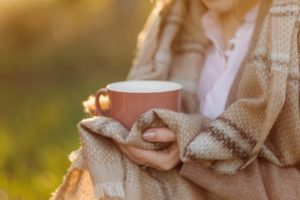 Crisp autumn days call for picnics under the changing leaves, while brisk evenings are best spent around a roaring bonfire with mugs of hot apple cider in hand. Especially this year, as many typically indoor activities have moved outside for safety, we want to extend our time outdoors as far into the season as possible. To cut through the autumn chill, a snuggly warm outdoor blanket is a must for backyard gatherings, weekend camping trips, or any other outside activity this fall. Fire up a fabulous pot of soup or stew or chili, fill your mugs, and cozy up to your fire pit. What a perfect way to wind down with your family in beautiful Tahoe. Here is one of my favorite recipes, sure to please!
Prep time/15 mins Cook time/45 mins Total time/1 hour Author: Jeanine Donofrio Serves: 4
You'll love this vegan chili recipe! Butternut squash adds a delicious sweet contrast to the smoky, spicy peppers and chili powder.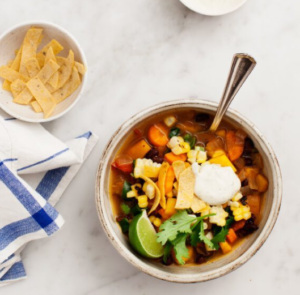 Ingredients:
1 tablespoon extra-virgin olive oil
1 medium yellow onion, diced, about 1½ cups
2 garlic cloves, minced
1 carrot, chopped
2 cups cubed butternut squash (you could substitute sweet potato, or use both)
1 poblano pepper, stem and seeds removed, and diced*
1 teaspoon chili powder*
½ teaspoon chipotle paste or powder*
1 cup halved cherry tomatoes, or 1 cup canned diced tomatoes
2 teaspoons apple cider vinegar
1 cup cooked black beans, drained and rinsed
2 to 3 cups vegetable broth
Juice of ½ to 1 lime
Sea salt and freshly ground black pepper
Optional toppings:
Grilled corn kernels
Handful of cilantro
Baked tortilla strips (or crumbled chips)
Lime slices
Dollops of poblano cashew cream
Instructions:
Heat the oil in a large pot over medium heat. Add the onion and a pinch of salt and pepper and cook until soft, 5 to 8 minutes. Stir in the garlic, carrots, poblano, butternut squash, and another pinch of salt and pepper. Cook until the vegetables just start to become tender and the onion is lightly browned about 15 minutes. Reduce the heat if necessary.
Add the chili powder, chipotle powder, and tomatoes and cook for 1 minute. Stir in the apple cider vinegar and black beans and then add 2 cups of vegetable broth (or enough to cover everything). Simmer until the butternut squash and carrots are tender, 20 to 30 minutes, adding more broth as needed.
Add a big squeeze of lime. Season to taste with more salt, pepper, and spices to your liking. If your chili is too spicy, stir in a small splash of apple cider vinegar. If it's too thick, add another cup of broth.
Serve with grilled corn, cilantro, tortilla strips, lime slices, and poblano cashew cream.
Notes
*if you're sensitive to spice, start with less, you can always add more. If your chili is too spicy in the end, add more lime juice and/or splashes of apple cider vinegar to tone it down.
Call me when it's done–let me know what you think!! Happy Autumn!