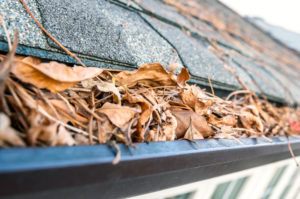 Water and debris can accumulate in your gutters over the fall and winter, which can lead to water damage in your house. And you don't want that. So get a ladder that can reach your gutters, but be sure not to overextend yourself. If the gutter is too high, you might want to call in an expert to do the job.
If you're doing the work yourself, don't lean the ladder against the gutter or near electrical wires. Scoop out the gutter's wet leaves and debris, and wet down caked-on dirt so you can scoop out the mud with a trowel.
Also, use a garden hose to flush the gutters after you've cleaned them. This will get the gutters clean, and it will also let you know if you have leaks. Then use the hose to wash out your downspouts to make sure they're not clogged. But be gentle-downspouts aren't meant to withstand the same water pressure as a house drain.
Some experts recommend covering your gutters with a wire mesh guard to keep debris out. And remember: Never hang onto a gutter for support. It's built to hold water and some leaves, not your weight.
There ARE pros here if you feel this task may be over your head… (see what we did there??). Give us a call anytime, and we can put you in touch.