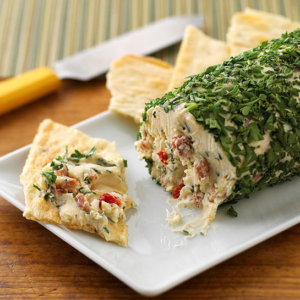 You'll want to make a few of these to have on hand! Easy, yummy deliciousness!
Ingredients:
3 tablespoons snipped fresh chives
3 tablespoons snipped fresh basil
2 tablespoons snipped fresh parsley
18 ounce package cream cheese, softened
4 ounces goat cheese
1/4 – 1/2 teaspoon cracked black pepper
1 clove garlic, minced
Assorted crackers
How to Make It:
In a shallow dish combine 1 tablespoon of the chives, 1 tablespoon of the basil, and the parsley; set aside. In a medium bowl beat cream cheese and goat cheese with an electric mixer on medium speed until smooth. Beat in remaining 2 tablespoons chives, remaining 2 tablespoons basil, the pepper, and garlic. Form into a log.
Roll cheese log in herb mixture. Wrap and chill for 4 to 24 hours. Makes twelve 2-tablespoon servings.