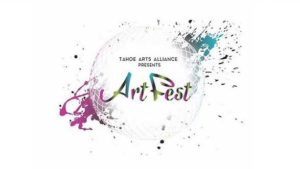 Summer begins here in beautiful Tahoe! wootwoot! Sunday, June 2, 2019, Tahoe Arts Alliance presents the inaugural ArtFest, from 10 a.m. – 4 p.m. In partnership with the Lake Tahoe Visitors Authority, Tahoe Brewfest and the Ski Run Business Association, the free all-ages event features a specified genre of art (i.e. visual art at Black Bear Lodge, film at Tech Gear Lab) with businesses along Ski Run Blvd in beautiful Tahoe.
A "Hair of the Dog" sampling passport available for purchase includes different flavored mimosas at each participating location and a souvenir tasting cup. Patrons receive a discount on the sampling passport with proof of attendance at Brewfest.
The first annual Tahoe ArtFest is an art extravaganza of all genres showcasing creativity on Lake Tahoe's South Shore. The primary event will take place on Sunday, June 2nd from 10AM-4PM, with a Kickoff Party on Friday, May 31st starting at 7 PM at Blue Angel Cafe. There will be live music from Molly Delallo and Iron Ivy.
For the 1st Annual ArtFest, the Tahoe Arts Alliance has partnered with the Ski Run Business Association to bring you 9 venues along Ski Run Blvd that will each host a different genre of art (e.g. visual art at Black Bear Lodge, film at Tech Gear Lab). When you check in for your Hair of the Dog passport, you will receive a map that includes all of the participating venues, as well as an official ArtFest tasting cup for mimosas! The Hair of the Dog passport will allow you to try different flavored mimosas at 5 participating locations along Ski Run Blvd. This passport can also be used to receive a discount on food and drinks at the participating businesses.
If you plan to attend Brew Fest the Saturday, June 1st, please use the discount code provided in your Brew Fest ticket for $5 off of your Mimosa Passport.
For those attendants who do not plan to drink, this event is free! Children have free admission also. If you would like to receive mimosa tastings, you will need to purchase a passport. Be sure to check out the Battle of the Bands!
If you'd like to purchase a passport and admission to the Friday, May 31st Kickoff Party, combo tickets are only $30 in advance. If you purchase tickets to the Kickoff Party at the door, they are $15 (or $10 off if you bring a bottle of champagne).
See you all there!
Thank you to TahoeSouth for this information.