Spring and early summer are a great time to visit Lake Tahoe's south shore. The perks include fewer crowds, on average pleasant warm days, keeping in mind it can snow during any month in the mountains, and a full lineup of events.
In 2022, South Lake Tahoe is holding its largest free concert event on Memorial Day Weekend. The Big Blue Music & Brews Festival is May 27-29 with live music from over 40 artists across 13 different venues from the Beacon Bar and Grill at Camp Richardson to Heavenly Village. Parking is limited so biking and alternative transportation is encouraged. For a full lineup of artists and times go to
https://tahoesouth.com/event/big-blue-music-brews-festival/all/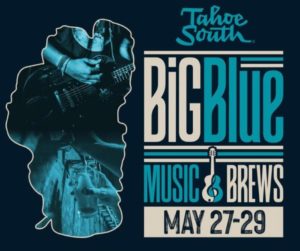 For taking care of the special mom in your life on Mother's Day consider a reservation at one of the many lakeside restaurants for a classy brunch. Many have special Mother's Day menus on tap: Beacon Bar and Grill
Looking to get involved? Roll up your sleeves and join the Tahoe Area Mountain Biking Association for their first big trail build day on May 22, from 9 a.m. to 2 p.m. as they ready Corral Trail for summer. Or volunteer to help Keep Tahoe Blue through the beach, bike trail, lake cleanup days, and citizen scientist opportunities.
May is also a good time to fit in some beach time before the summer crowds. You could find a stretch of sand with no one but you, the ducks, and an occasional bald eagle sighting. For a full guide to Tahoe's Public Beaches check out https://www.tahoepublicbeaches.org/
As always there are plenty of opportunities to stay active in Lake Tahoe. May is also a good time to hit the trail before the tourist season really starts. Just remember to pack it in and out, bring water, wear layers for temperature fluctuations, and bring bug spray if you plan to head into the backcountry. Happy Spring everyone!