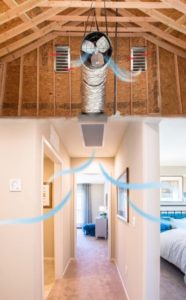 It's Summertime! YAY! It's a great time to update a few things which will make life easier, more efficient, and even increase the value of your beautiful Tahoe home. Here are our suggestions:
Programmable Thermostat — Costs: $99-$250
Looking for summer home improvements that can save you money while increasing the value of your home? Installing a programmable thermostat is one of the easiest and most efficient ways to do so. These devices allow homeowners to customize their temperature profile throughout the day, which can lead to smalls savings on a monthly basis that adds up. According to Energy Star, programmable thermostats have the ability to save homeowners, on average, $180 in heating and cooling costs per year.
Another option is installing a smart thermostat such as Nest. These Wi-Fi-enabled thermostats, which are controlled by a homeowner's smartphone, have been proven to save 10-12 percent on heating costs, and 15 percent on cooling. In addition, Nest has partnered with Southern California Edison and other energy companies to provide customers with a Nest smart thermostat. In terms of pricing, the cost of the thermostat including installation will cost anywhere from $99-$250 per device.
Whole House Fan — Costs: $1,000-$1,200 per fan
For homeowners looking to take energy efficiency to the next level, whole-house fans are the way to go. This cooling system, which works in unison with ceiling fans and other circulating fans, pulls air in from openings within the house and then removes it by exhausting it through the attic and roof — helping to provide homeowners with comfort during hot summer months.
Although the installation of a whole house fan doesn't require an expert, it is definitely recommended. A whole house fan can be noisy and inefficient when improperly installed, so it's critical for homeowners to call a professional.
Generally speaking, the costs of installing a whole house fan will range depending on several factors. This includes the cost of the fan, the labor, and the materials. Homeowners can expect to spend anywhere from $1,000-$1,200 per fan.
New Windows — Costs: $600-$5,000
Another popular home improvement trend, especially during the dog days of summer, is investing in new windows. This approach, which is perfect for homes with old, worn out, or damaged windows, offers homeowners both energy efficiency and return on investment, including long-term savings from heating and cooling costs.
When investing in new windows, the most efficient route is to install a dual-pane. This type of window will not only eliminate outside noise, including inefficient air conditioning and heating, but it will make your home look and feel better. The costs will typically range from $600-$5,000 depending on the number of windows being installed.
It's important to note that while replacing windows won't require homeowners to obtain a permit, cutting a hole in the wall to perform the job will. Homeowners will need to speak with a window professional in order to acquire the necessary permits to perform the work.
We all know about extreme weather conditions here in beautiful Tahoe. These recommendations will make life easier. Realizing the impact summer home improvement projects can make on the overall impression a home buyer gets when they walk through your property. And, more importantly, the impact those small improvements can make on the eventual purchase price when your exit strategy becomes a reality. We promise!