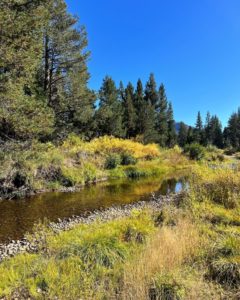 Famed for its beauty and outdoor recreation, Lake Tahoe is a popular vacation destination. But, locals know a secret. The best time to be in Lake Tahoe is its "Secret Season." After the crowds of summer clear out and before the snow arrives, Lake Tahoe enjoys a laid-back vibe that is all its own.
After Labor Day weekend until Thanksgiving, Tahoe is often gifted with warm days and cool nights through the beginning of November that allows for many of the summertime favorite activities, but in near solitude. It's a perk that residents look forward to every year.
The lake is calm with near glass conditions many days making it perfect for paddleboarding and kayaking. The trailheads have plenty of parking spots, and you can often get in at your favorite restaurant – no reservations required. And the area's Aspen trees put on a fall color show.
Activities
While many tour operators shut down for the shoulder season there is still fun to be found. Clearly Tahoe offers year round kayak tours. Bike rentals allow for exploring many of Tahoe's paved and unpaved bike trails. October is also a big month for active events. The Lake Tahoe Marathon offers races for the casual to serious runner. There's even live sports events with South Lake Tahoe's resident junior hockey team, the Lake Tahoe Lakers. Catch their home games at the South Tahoe Ice Arena.
Nightlife
Check out the spookier side of history with Tallac After Dark. Tallac Historic Site volunteers and staff invite you to attend an interpretative tour through the American Spiritualism Movement. Discover why so many Americans tried to speak to the dead and how they did it. From seances to ouija, this tour takes you back in time to experience the movement firsthand. You'll also hear tales from our modern-day, ghostly encounters that regularly occur at the Pope Estate.
Get outside and enjoy Tahoe's Secret Season because ski season is right around the corner. Heavenly's tentative opening date this year is Nov. 18.
For more information on Lake Tahoe real estate opportunities check out our listings.