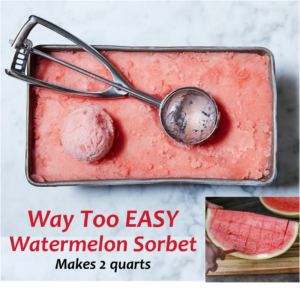 It's finally Summer in beautiful Tahoe, and it heating up! This is a refreshing frozen treat that is so simple to make, yet impressively delicious! Let us know what YOU do to YOURS!
Way Too Easy Watermelon Sorbet Makes 2 quarts… (so one Tim-sized serving !)
Place cubes from one ripe medium watermelon in one layer on a baking sheet into the freezer. Freeze until solid, about 2 hours.
Working in batches, puree in blender/food processor until smooth. Pack into 2 loaf pans until full. Return to the freezer for about 2 more hours. Scoop & enjoy!
If you're adventurous, go gourmet by adding one of the following during #2:
*Thyme *Basil *BBQ Spice *Ginger *Mint *Lime *Nutmeg *Cumin *Chile
Enjoy!